Essential WordPress Plugins – Plugins are extensions that enhance a website's features and functionality. However, with over 58,000 plugins available in the WordPress directory, it can be difficult to choose the right ones.
In addition, having too many plugins can negatively affect your site's performance. They can take up server resources and slow down your website, resulting in a poor user experience and high bounce rates.
Ensuring your website runs smoothly begins with choosing robust and reliable WordPress hosting. Look for a plan with sufficient resources such as unlimited bandwidth and SSD storage. Then, consider your website's needs and install only the necessary plugins.
In this article, we've compiled seven essential WordPress plugins to ensure your new website is secure, optimized for search engines, and loads fast.
Read on to find out what they are.
1. Yoast SEO

Plugin Stats
Downloads: 5+ million
Ratings: 8/5
Best for: search engine optimization
Price: freemium (premium version available from $89/site)
Yoast SEO is a WordPress plugin used to make websites rank higher on search engines. It comes with a keyword optimization tool to help write SEO-friendly content using the right key phrases.
Yoast SEO also comes with the Flesch Reading Ease score – a readability tool to make sure readers and search engines can understand your content without any trouble.
Additionally, Yoast SEO supports multiple languages, from English to German and Indonesian to Arabic. This way, you can adjust and improve your content for a global audience.
Other mention-worthy features include:
Canonical URLs. Avoid duplicate content.
Google preview. Take a look at how your pages show up on search engines on different devices.
Compatibility with various WordPress editors. The plugin works well with the classic editor, the block editor, and Elementor.
If you want more features such as adding multiple keywords, internal linking suggestions, and 24/7 support, consider upgrading to Yoast SEO's premium version.
2. Jetpack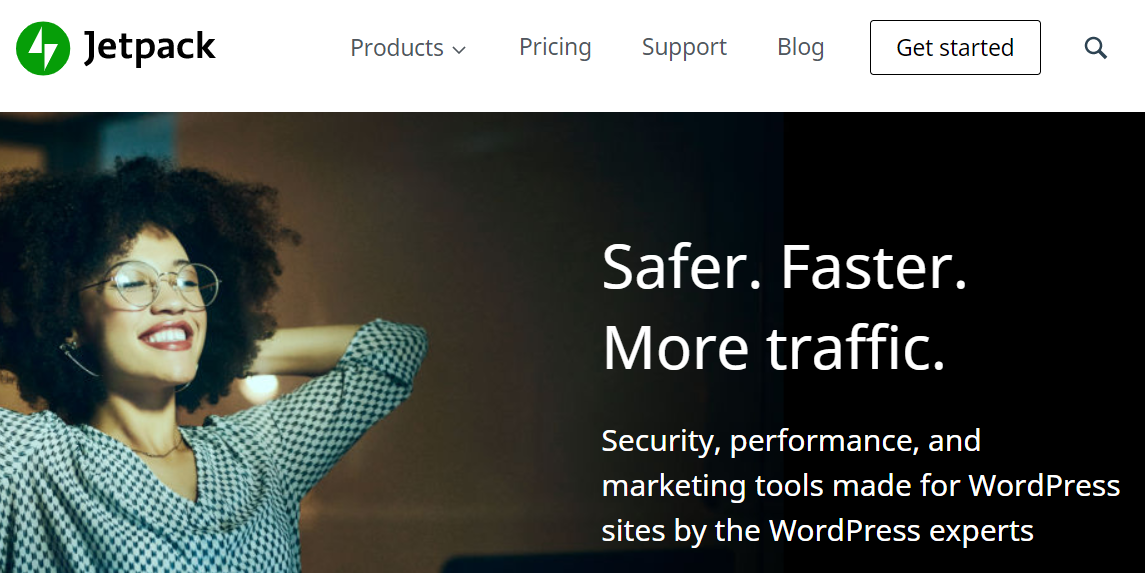 Plugin Stats
Downloads: 5+ million
Ratings: 9/5
Best for: security, performance, and marketing
Price: freemium (premium version available from $4.77/month, billed yearly)
Jetpack is an all-in-one toolkit that protects and speeds up a site and increases its traffic for growth. It features secure logins to protect websites from brute force attacks. Jetpack also comes with other security features such as activity logs and downtime monitoring.
To increase site performance, Jetpack uses a global content delivery network (CDN). This plugin also has features such as automatic social sharing and direct sharing from WordPress to attract more traffic.
Additional features of the free version of Jetpack include:
Site statistics. Gain insight about your visitors such as their geolocation, the search terms they used, and popular visiting times.
WooCommerce compatibility. A great plugin to support an online store.
Advanced features like daily backups, malware scanning, and spam protection are available with the premium plans.
3. WPForms

Plugin Stats
Downloads: 4+ million
Ratings: 9/5
Best for: creating WordPress contact, feedback, subscription, and payment forms.
Price: freemium (premium version available from $39.50/year)
WPForms is an intuitive and easy-to-use form builder. It features a drag-and-drop interface so users can customize and rearrange forms easily.
It also comes with pre-built form templates so you don't have to start from scratch. The plugin features over 100 templates for registration, donation, and contact forms.
Each template is also responsive and mobile-ready, so your site's visitors can have a pleasant browsing journey on any device. Not only does this improve the user experience, but it also helps with SEO and speeds up the site.
Other WPForms features include:
Survey and poll add-on. Create survey forms and analyze the data with reports.
Spam protection. WPForms integrates with hCaptcha and Google reCAPTCHA.
Multiple-page forms. Split long forms into multiple pages with progress bars to improve user experience.
The premium version offers more features such as priority support, multiple site functionality, and form abandonment.
4. HubSpot

Plugin Stats
Downloads: 200,000+
Ratings: 4/5
Best for: website growth
Price: freemium (premium version available from $45/month)
HubSpot is a complete marketing suite. It has tools for email marketing, live chat, and customer management.
This plugin has a drag-and-drop email builder to collect and nurture leads. If you don't want to start from scratch, HubSpot email marketing offers more than 20 pre-designed templates so you only need to add your content and press send.
All emails will automatically be logged into your customer management system. This way, you can measure each email's engagement and make well-informed decisions based on data.
Other notable features include:
Ad management. Connect supported ad networks to your HubSpot account and see which ads attract the most customers.
Landing pages. Create landing pages to increase conversion.
List segmentation. Send personalized content based on various criteria.
For more insights such as campaign reports and website traffic analytics, consider upgrading to the premium version.
5. Elementor

Plugin Stats
Downloads: 5+ million
Ratings: 7/5
Best for: website and page building
Price: freemium (premium version available from $49/year for one website)
Elementor is a drag-and-drop editor used to design web pages. This plugin also features live editing to see changes in real-time, making the design process fast and free of errors.
Although user-friendly, Elementor includes advanced features such as hover effects, animations, and gradient backgrounds for a professional look.
This plugin features more than 300 full-page templates you can customize. You can also add and modify sections using blocks and widgets.
Other features to help build a beautiful website include:
Mask shapes. Shapeshift any element into your desired form.
One-page websites. Create a one-page website with useful features such as click-to-scroll navigation.
Layout customization. Take control of the section and column width and height.
For more features like motion effects and custom fonts, consider upgrading to Elementor Pro.
6. WP-Optimize

Plugin Stats
Downloads: 1+ million
Ratings: 8/5
Best for: caching and speeding up your website
Price: freemium (premium version available from $49/year for up to 2 site licenses)
WP-Optimize is a WordPress performance plugin that caches your site, cleans your database, and compresses your images.
Caching ensures your website loads fast when a user revisits a page or a post on your site. It converts the dynamic content into a static HTML file to use less server resources.
This plugin also speeds up your site's load time by cleaning the database. It clears out all unnecessary data such as comments marked for deletion and post revisions. Additionally, WPO can retrieve space lost due to data fragmentation.
Additional features to help optimize site performance include:
Bulk image compression. Compress multiple images at the same time.
UpdraftPlus Automatically trigger a pre-optimized backup.
Minify CSS and JavaScript to reduce the size and number of requests for your server.
For more features such as unwanted image removal and multisite support, upgrade to WP-Optimize Pro.
7. iThemes Security

Plugin Stats
Downloads: 1+ million
Ratings: 6/5
Best for: security
Price: freemium (premium version available from $80/year for one site)
iThemes Security helps protect your WordPress website from malicious attacks. It detects and combats security threats before they can harm your site.
This plugin comes with secure login features such as two-factor authentication and password requirements to protect your site from brute force attacks. Additionally, iThemes Security detects and logs file changes to monitor for any malicious activity.
This plugin also has security templates based on your site type – there are options for eCommerce sites, blogs, portfolios, and more.
iThemes Security also comes with the following features:
Site scanner. Scan for vulnerable themes, plugins, website errors, and out-of-date software.
Database backup. Avoid data loss in case attacks happen.
Email notifications. Get notified whenever suspicious activity occurs.
This plugin's premium version has a dashboard monitoring feature for people who value real-time supervision.
Conclusion
Plugins are useful tools that extend and enhance a site's functionality. However, it can be difficult to choose the right ones when there are so many options available.
In this article, we've compiled seven essential plugins for new websites. They are:
Yoast SEO. Increase search engine optimization to help your website rank higher on the search engine results pages.
An all-in-one toolkit for security, performance, and marketing.
Create WordPress contact, payment, and feedback forms.
A marketing suite with tools for email marketing, customer management, and live chat implementation.
A drag-and-drop website and page builder to design websites efficiently.
WP-Optimize. Speed up your site by cleaning up its database, compressing images, and caching its data.
iThemes Security. Secure your website from cyber-attacks.
In order to be able to run these plugins, make sure to choose a reliable WordPress hosting with sufficient resources.
Hopefully, this article has helped you narrow down your plugin choices. Good luck!